Contact Us
We look forward to handling your questions and will be in contact within one business day.
Contact Information
1-866-757-3358
sales@thefeltstore.com
Office & Showroom
2541 Wharton Glen Avenue
Mississauga, Ontario L4X 2A8
The Felt Store is an online company with no retail locations. Customers are welcome to visit our showroom in Mississauga Ontario, to preview a selection of our materials and products with the help from one of our staff members.
Customer Service Hours (EST)
Our Customer Service Representatives are on standby and ready to answer your questions
Monday to Friday 9:00 AM - 5:00 PM EST
excluding Statutory Holidays.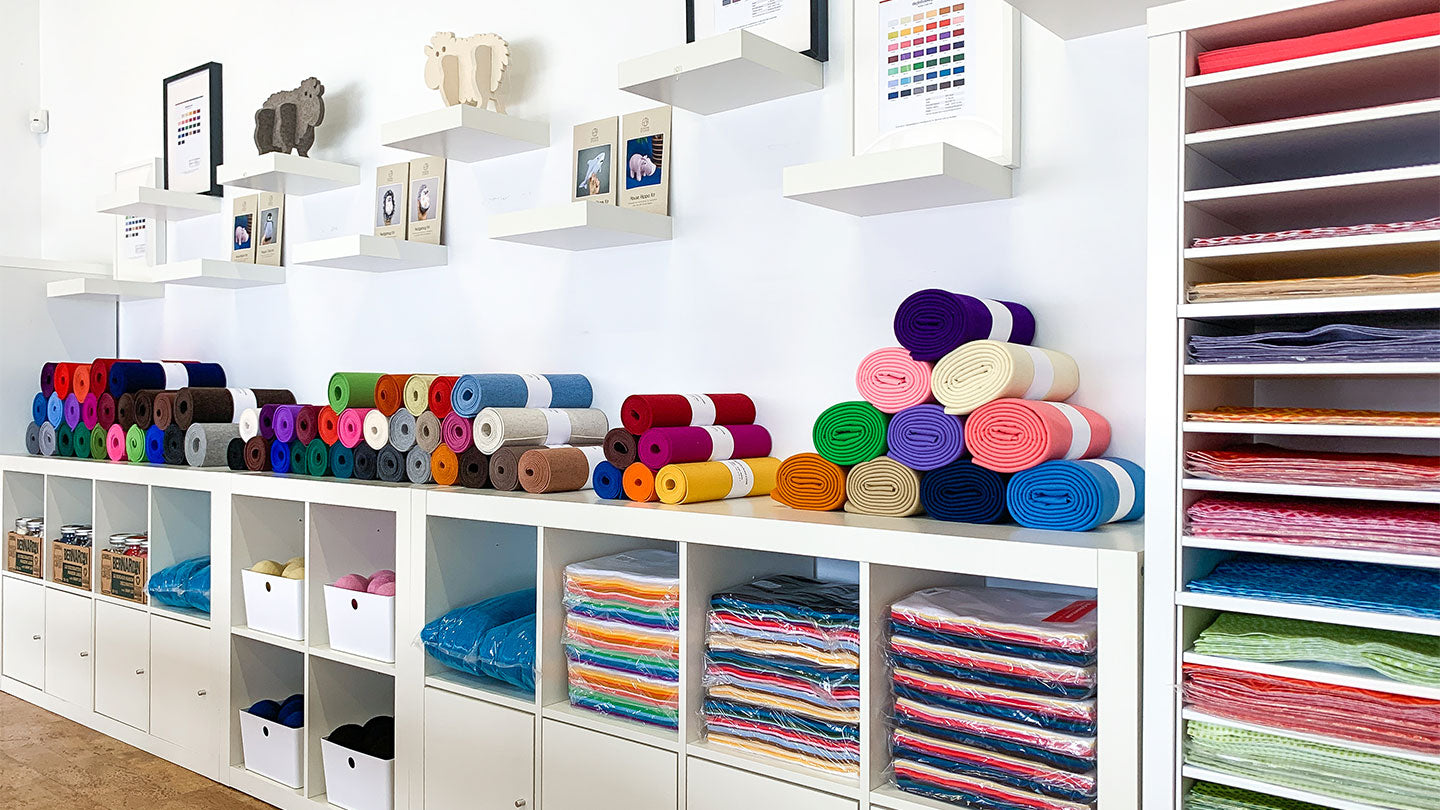 The Felt Store
Mississauga Showroom
About to start a felt project and don't know where to start? Stop by our showroom today and one of our customer service representatives will be happy to assist you.

We are now offering in store purchasing at our Mississauga location. Some exclusions may apply.
Get Directions
Visiting Our Showroom
The Felt Store sells predominantly online. We do not have any physical retail locations (yet!). However, we do have a showroom located in Mississauga, Ontario open Monday to Friday, 9am to 5pm EST. Customers are welcome to stop by to view a selection of our samples and purchase a variety of materials and products. Please note, not all of our products are available on location. The following products are available for purchase at our 2541 Wharton Glen Ave, Mississauga, Ontario showroom location:
Material
Products

Acrylic Craft Felt - By Yard
Acrylic Craft Felt - Sheets
Rayon/Viscose Craft Felt - By Yard
Rayon/Viscose Craft Felt - Sheets
Premium Wool Blend Craft Felt - By Yard
Premium Wool Blend Craft Felt – Sheets
Carded Felting Wool
Wool Felt Balls & Shapes
Card Table Felt
Stiff Craft Felt Sheets (to be discontinued, limited supply available)
Pattern Craft Felt Sheets (to be discontinued, limited supply available)
SAE Industrial Felt Sheets – 12" x 12" x 1/8" Thick (select grades only)
Cork Sheets
Burlap – By Yard
Burlap Ribbon (to be discontinued, limited supply available)

Wool Ironing Mats
Wool Dryer Balls
Wool Felt Coasters (select colours)
Felt Boot Liners
Felt Insoles
Cork Insoles
Indoor Overshoes
Heavy Duty Felt Pads (select sizes only)
Maple Syrup Filters
Watering Mats
Kevlar Skid Plates
Felt Indoor Hockey Pucks